Visit the Aigues-Mortes salt marshes
Come and visit the Mediterranean's biggest salt marshes from March to November (and in the Christmas season) on foot, in a 4x4, by bike or on our sightseeing train. For more information, visit our dedicated website: www.visitesalinsdecamargue.com
By sightseeing train
Image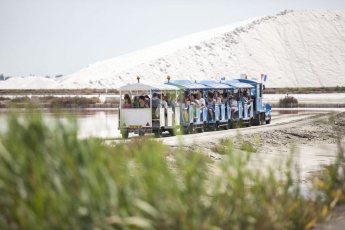 Image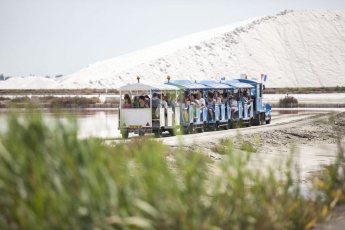 Get on board a little train for a one-hour trip to the heart of the Aigues-Mortes salt marsh. Come and see the crystallisation pans, the wonderful Camargue salt and the pink waters that make this such a magical and exceptional spot. You will find out all about the work of the salt makers, the guardians of this preserved, unspoilt and generous natural area. You can also visit our exhibition area and climb our "camelle" (salt hill) for an extraordinary view over the biggest salt marsh in the Mediterranean and the town of Aigues-Mortes. And don't forget our shop with a whole host of gift ideas.
By mountain bike
Image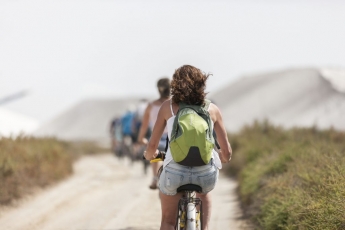 Together with our guide, you can ride along the paths taken by our salt makers. You can also see how salt is made in the salt marsh, while admiring local fauna and flora. Our guide will reveal all the secrets of this wild and preserved spot.
You can rent your bike on site or bring your own (along with your equipment). The visit is open to all fans of cycling trails aged 13 and over.
Image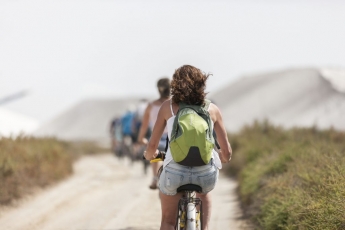 Visits on foot
Image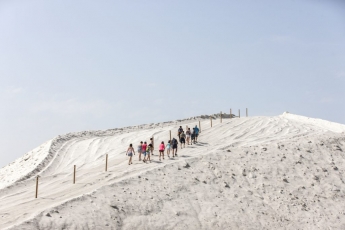 Image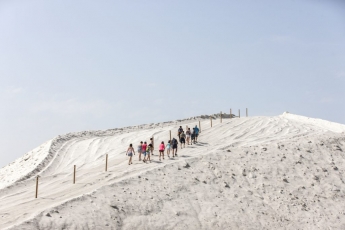 For 2 hours, set off with a nature guide and get to know the work of our salt makers. See how Camargue salt is harvested and the truly exceptional fauna and flora.
An unforgettable experience!
In a 4x4
Image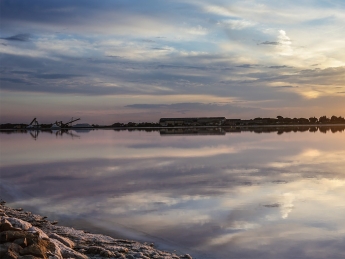 Enjoy the enchantment of the magical Aigues-Mortes salt marsh during a 3 hour 30 minute visit. See some of the unusual sights and the kind of animals and plants you will find nowhere else. 278 plants, including 20 protected species, 200 bird species, including 157 protected species, and thousands of flamingos! There are over 10,000 of them living in the salt marsh, making this the biggest reserve in Europe. The visit is a chance to see how Camargue salt is made in the biggest salt marsh in the Mediterranean area.
Image