Fillet of duck breast kebabs with dried apricots
Preparation time: 30 mins
Ingrédients :
Image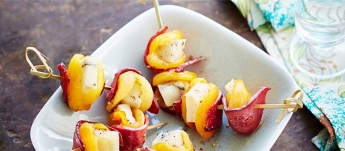 For 4 people : 
1 fillet of duck breast (about 300 g)
Milled pepper
30 dried apricots
Cheese of your choice (Comté, blue cheese or Roquefort)
1 kg Le Saunier de Camargue coarse salt
Image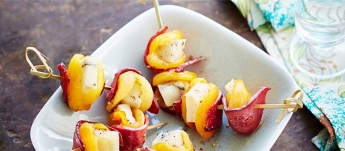 Préparations :
1 week beforehand:
Spread a layer of Le Saunier de Camargue coarse salt on the bottom of a rectangular oven dish. Place the duck fillets on a cutting board and remove any stringy fibres and excess fat, then place them on paper towel to dry. Lay the "meat" side of the duck on the salt and cover entirely with coarse salt.
Refrigerate for 36 hours. Remove the duck from the salt, rinse gently under the cold water tap, then dry on kitchen paper.
Season with pepper and then dry at room temperature in a dishcloth for 24 hours.
Remove the layer of fat from the duck, then cut the dried duck into thin slices. Cut up 30 cubes of cheese. Slit open the apricots to form an envelope.
Place the cheese inside the apricot and wrap a slice of duck around the outside.
Presentation suggestion:
Thread the pieces onto wooden skewers. (1 apricot + 1 cheese cube + 1 slice of fillet of duck breast)