Chocolate ravioli in a salted butter coulis
Preparation time: 30 min - Time to set aside: 30 min - Cooking time: 4 to 5 min
Ingrédients
Image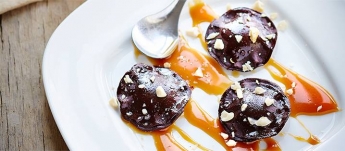 4 tablespoons of cocoa powder
2 tablespoons of icing sugar
2 eggs
1 tablespoon of oil
A pinch of Le Saunier de Camargue ground salt
200 g dark, white or milk chocolate
20 cl full fat single cream
300 single cream
300 g sugar
150 g salted butter
Le Saunier de Camargue fleur de sel
Image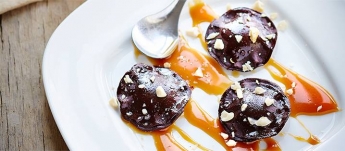 Préparation
For the icing:
Chop up the chocolate using a large bread knife and put the pieces in a large bowl.
Slowly bring the cream to the boil in a saucepan, then add the chocolate.
Wait for the chocolate to melt, then stir together gently.
Place in the fridge for 30 minutes until the icing hardens.
For the ravioli:
To make the ravioli, combine the flour, cocoa, icing sugar, eggs, the tablespoon of oil and the Le Saunier de Camargue ground salt.
Roll out the ravioli using a pasta maker or with a rolling pin if you don't have a machine.
With a pastry cutter, cut out circles in the dough and sprinkle with flour on each side.
Spoon half a teaspoon of icing in the middle of half the pasta circles. Moisten the edges of the circles with a wet brush and then press down a second ravioli on top (the one without the icing).
Continue until you have used up all the ingredients.
Bring a large saucepan of water to the boil and then add the ravioli.
Stir quickly to make sure the ravioli don't stick together. When the water comes to the boil again, cook for 4 to 5 minutes more. Rinse carefully.
For the salted butter caramel sauce with Fleur de Sel:
You will need two saucepans. In the first, heat up the cream.
In the second, heat up the butter and sugar at a high temperature. Then stir until the caramel has a golden colour.
After removing the caramel from the heat, pour on the warm cream. Stir, then warm up over a medium heat for 5 minutes.
Pour the caramel into a hermetically sealed jar. Leave to cool down for 2 hours.